PENDEKATAN RESTORATIVE JUSTICE DALAM TINDAK PIDANA PENCEMARAN NAMA BAIK MELALUI MEDIA SOSIAL SEBAGAI IMPLEMENTASI ASAS ULTIMUM REMEDIUM
Masna Nuros Safitri

Fakultas Hukum Universitas Pembangunan Nasional "Veteran" Jawa Timur

Eko Wahyudi
Abstract
Abstract
The concept of a restorative justice approach focuses on the approach to conditions for creating justice and balance for the perpetrators of criminal acts and the victims themselves. On the crime of defamation through social media implementation of the principle of ultimum remedium needs to be maximized, because basically lies in the loss of reputation, so that with the approach of restorative justice can be formulated damages suffered by the victim's dignity recovery is good andright. This research is a normative research that uses legal and non-legal materials as a source of data and the approach taken is a statutory approach and a conceptual approach. To find out how positive Indonesian law regulates restorative justice , a comprehensive study of related regulations is needed. The results of this study confirm that the restorative justice approach can balance the protection of a person's dignity and the protection of freedom of opinion or prevent the criminalization of defamation cases. 
Keyword: Restorative Justice, Defamation, Ultimum Remedium
Abstrak
Konsep pendekatan restorative justice menitikberatkan pendekatan terhadap kondisi terciptanya keadilan dan keseimbangan bagi pelaku tindak pidana serta korbannya sendiri. Pada tindak pidana pencemaran nama baik melalui media sosial implementasi asas ultimum remedium perlu dimaksimalkan, karena pada dasarnya kerugiannya terletak pada reputasi, sehingga dengan adanya pendekatan restorative justice dapat diformulasikan ganti rugi yang diderita korban dengan pemulihan harkat dan martabat secara baik dan benar. Penelitian ini merupakan penelitian normatif yang menggunakan bahan hukum dan non hukum sebagai sumber data serta pendekatan yang dilakukan adalah pendekatan peraturan perundang-undangan dan pendekatan konseptual. Untuk mengetahui bagaimana hukum positif Indonesia mengatur restorative justice maka diperlukan kajian secara komprehensif terhadap regulasi terkait. Hasil penelitian ini menegaskan bahwa pendekatan restorative justice dapat menyeimbangkan antara perlindungan terhadap harkat dan martabat seseorang dan perlindungan terhadap kebebasan berpendapat atau mencegah adanya kriminalisasi perkara pencemaran nama baik.
Kata Kunci: Keadilan Restoratif, Pencemaran Nama Baik, Ultimum Remedium
Downloads
Download data is not yet available.
References
Daftar Pustaka
A. Buku
Djamali, R Abdoel. (2011). Pengantar Hukum Indonesia. Jakarta: Rajawali Pers.
Rosida, Nikmah. (2014). Budaya Hukum Hakim Anak Di Indonesia. Semarang: Pustaka Magister.
Sitompul, Josua. (2012). Cyberspace, Cybercrimes, Cyberlaw- Tinjauan Aspek Hukum Pidana. Jakarta: PT Tatanusa.
Soesilo, R. (1999) Kitab Undang-Undang Hukum Pidana, KUHP Serta Komentar-Komentarnya Lengkap Pasal Demi Pasal, Politesa.
B. Peraturan Perundang-Undangan
Undang-Undang Nomor 19 Tahun 2016 tentang Perubahan Atas Undang-Undang Nomor 11 Tahun 2008 tentang Informasi dan Transaksi Elektronik
Undang-Undang Nomor 11 Tahun 2012 tentang Sistem Peradilan Pidana Anak
Peraturan Kejaksaan Republik Indonesia Nomor 15 Tahun 2020 tentang Penghentian Penuntutan Berdasarkan Keadilan Restoratif.
Keputusan Direktur Jenderal Badan Peradilan Umum Mahkamah Agung Republik Indonesia Nomor 1691/DJU/SK/PS.00/12/2020 tentang Pemberlakuan Pedoman Penerapan Keadilan Restoratif (Restorative Justice).
Surat Edaran Kapolri Nomor SE/2/11/2021 tentang Kesadaran Budaya Beretika Untuk Mewujudkan Ruang Digital Indonesia yang Bersih, Sehat dan Produktif.
Surat Edaran Kapolri Nomor SE/8/VII/2018 tentang Penerapan Keadilan Restoratif (Restorative Justice) dalam Penyelesaian Perkara Pidana.
Nota Kesepakatan Nomor 131/KMS/SKB/X/2012. Nomor M-HH-07.HM.03.02 Tahun 2012, Nomor KEP-06/E/EJP/10/2012, Nomor B/39/X/2012 tentang Pelaksanaan Penerapan Penyesuaian Batasan Tindak Pidana Ringan dan Jumlah Denda, Acara Pemeriksaan Cepat serta Penerapan Keadilan Restorative (Restorative Justice).
C. Jurnal
Alisan Morris & Gabrielle Maxwell. (2001) Restorative Justice for Juvenile; Conferencing. Mediation and Circle, Oxford-Portland Oregeon USA, Hart Publishing, p. 4.
Hasibuan, Lidya Rahmadani. M.Hamdan, Marlina & Utary Maharani Barus. (2015). Restorative Justice Sebagai Pembaharuan Sistem Peradilan Pidana Berdasarkan Uu No.11 Tahun 2012 Tentang Sistem Peradilan Pidana Anak. USU Law Journal .3.(3).
Nastiti, Faulinda Ely. Aghni Rizqi Ni'mal 'Abdu, Kesiapan Pendidikan Indonesia Menghadapi era society 5.0, Edcomtech Jurnal Kajian Teknologi Pendidikan, 5(1).
Tambir, I Made (2019). Pendekatan Restorative justice dalam Penyelesaian Tindak Pidana di Tingkat Penyidikan, Jurnal Magister Hukum Udayana, 8(4) P-ISSN:,2302- 528X, E-ISSN: 2502-3101.
D. Website
We Are Social. (2021). Dalam laporan berjudul Digital 2021: The Latest Insights IntoThe State of Digital https://wearesocial.com/blog/2021/01/digital-2021-the-latest-insights-into-the-state-of-digital, (diakses pada 24 September 2021).
Patroli Siber. (2021). Statistik Jumlah Laporan Polisi Yang Dibuat Masyarakat https://patrolisiber.id/statistic (Diakses pada 23 September 2021)
Rofiq Hidayat. (2021). Polri Prioritaskan Pendekatan Restorative Justice dalam Penanganan Kasus UU ITE. https://www.hukumonline.com/berita/baca/lt6034ad93b26ee/polri-prioritaskan-pendekatan-restorative-justice-dalam-penanganan-kasus-uu-ite/?page=all. (Diakses pada 9 Desember 2021)
Lain-lain
Paul Mccold dan Ted Wachtel. (2003) In Pursuit of Paradigm: A Theory of Restorative
justice, Paper ini dipresentasikan di Kongres Kriminologi Tingkat Dunia ke XIII di Rio de aneiro, Brazil.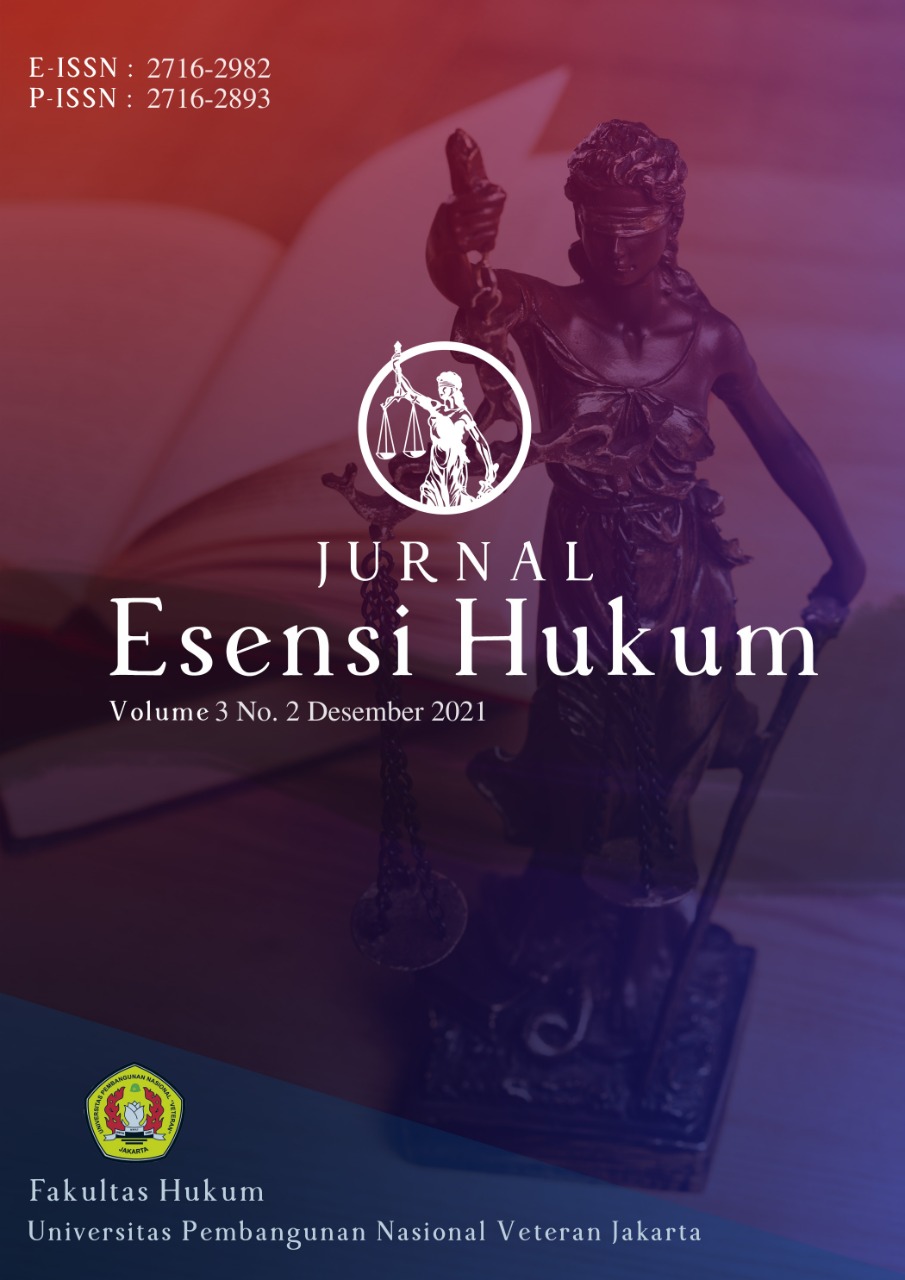 How to Cite
Masna Nuros Safitri, & Eko Wahyudi. (2022). PENDEKATAN RESTORATIVE JUSTICE DALAM TINDAK PIDANA PENCEMARAN NAMA BAIK MELALUI MEDIA SOSIAL SEBAGAI IMPLEMENTASI ASAS ULTIMUM REMEDIUM. Jurnal Esensi Hukum, 4(1), 12-23. https://doi.org/10.35586/esh.v4i1.106
Copyright (c) 2022 Masna Nuros Safitri
This work is licensed under a Creative Commons Attribution-ShareAlike 4.0 International License.
Authors who publish with this Journal agree to the following terms:
1. Author retain copyright and grant the journal right of first publication with the work simultaneously licensed under a creative commons attribution license that allow others to share the work within an acknowledgement of the work's authorship and initial publication of this journal.
2. Authors are able to enter into separate, additional contractual arrangement for the non-exclusive distribution of the journal's published version of the work (e.g. acknowledgement of its initial publication in this journal).
3. Authors are permitted and encouraged to post their work online (e.g. in institutional repositories or on their websites) prior to and during the submission process, as it can lead to productive exchanges, as well as earlier and greater citation of published works.
4.

This work is licensed under a Creative Commons Attribution-ShareAlike 4.0 International License.