KEPASTIAN HUKUM TEMPAT BERDAGANG BAGI PEDAGANG KAKI LIMA DI PASAR KLENDER JAKARTA TIMUR
Yuherman

Universitas Sahid Jakarta

Fahririn
Keywords:
Legal Certainty, Traders, Street Vendors
Abstract
Market activity cannot be separated from the interaction of traders and buyers which as buyers pass through the market area causing traffic disorder in the market area. Causing traffic jams in the market area so that it affects the orderliness of the roads around the market area. Another fact is that since the establishment of modern supermarkets, which are more organized and cleaner, the functions of traditional markets or people's markets are less than optimal. This study uses a field research type of research method, namely research that is directly related to the object under study to obtain information about the reality that exists in the field. The conclusion of this study is that the role of street vendors in creating public order and facilities needs to be reviewed because considering the large number of evictions that occur and are considered as a form of problem and are considered disturbing and even abusing public facilities. Suggestions from this research are street vendors at PD Pasar Jaya Klender, East Jakarta, do not get direct management and do not get legal certainty in accordance with existing policies in several regulations that directly regulate public order and facilities, including the management of street vendors.
Downloads
Download data is not yet available.
References
Daftar Pustaka
Buku
Achmad Al. (2009). Menjelajahi Kajian Empiris Terhadap Hukum,
PT Yasrif Watampone, Ujung Padang.
Andi Hamzah. (2005). Penegakan Hukum Lingkungan, Sinar Grafika, Jakarta.
Djoko Asmoro. (1990). Petunjuk Perencanaan Trotoar no.007/T/BNKT/1990
Direktorat Jendral Bina Marga, Direktorat Pembinaan Jalan Kota, Januari, Jakarta.
Iskandar. (2009). Cermin Buram Penegakan Hukum Di Indonesia, Gaung Persada
Press, Jakarta.
Kusnadi Harjasumantri. (2000). Hukum Tata Lingkungan, Gajah Mada University Press, Yogyakarta.
Lili Rasjidi & Ira Thania Rasjidi. (2001). Pengantar Filsafat Hukum, Mandar Maju, Bandung.
Muin Fahmal. (2008). Pokok-Pokok Hukum Administrasi Negara, PT. Rineka Cipta,
Jakarta.
Mukti Fajar ND & Yulianto. (2010). Dualisme Penelitian Hukum Normatif dan
Empiris, Pustaka Pelajar, Yogyakarta.
Peter Salim & Yenny Salim. (1991). Kamus Besar Bahasa Indonesia Kontemporer,
Modern English Press, Jakarta.
Peraturan Perundang-undangan
Undang-Undang Dasar Negara Republik Indonesia Tahun 1945.
Undang-Undang Nomor 09 Tahun 1995 tentang Usaha Kecil.
Undang-Undang Nomor 39 tahun 1999 mengenai Hak Asasi Manusia.
Undang-Undang Nomor 22 tahun 2009 Tentang Lalu Lintas Dan Angkutan Jalan.
Undang-Undang No 12 Tahun 2011 tentang Pembentukan Peraturan
Perundang-Undangan.
Peraturan Pemerintah Republik Indonesia Nomor 43 Tahun 1993 tentang Prasarana dan Lalu Lintas Jalan.
Peraturan Menteri Dalam Negeri Republik Indonesia Nomor 41 Tahun 2012
Tentang Pedoman Penataan dan Pemberdayaan PKL.
Peraturan Daerah Kota Yogyakarta No.26 Tahun 2002 tentang Penataan PKL.
Peraturan Walikota Yogyakarta Nomor 62 Tahun 2009 tentang Perubahan
Peraturan Walikota Yogyakarta Nomor 45 Tahun 2007 tentang Petunjuk
Pelaksanaan Peraturan Daerah Nomor 26 Tahun 2002 tentang Penataan
Peraturan WaliKota Yogyakarta Nomor 68 Tahun 2016 tentang Susunan
Organisasi, Kedudukan, Tugas, Fungsi dan Tatanan Kerja Satuan Polisi
Pamong Praja Kota Yogyakarta.
Jurnal
Hamsah. (2014). Implementasi Peraturan Daerah Nomor 10 Tahun 1990 Tentang
Pembinaan Pedagang Kaki Lima (Studi Kasus Pada Pedagang Kaki Lima di Kecamatan Rappocini Kota Makassar), Fakultas Ilmu Sosial Universitas Negeri Makassar.
Ivan Fauzi Raharja & Ratna Dewi. (2013). Penegakan Hukum Sanksi
Administrasi Terhadap Pelanggaran Perizinan. Jurnal Penelitian Universitas Jambi Seri Humaniora. Vol. 15. Nomor 2. Juli-Desember.
Purwanti, Henny & Misnarti. (2010). Usaha Penertiban dan Pembinaan Pedagang
Kaki Lima di Kabupaten Lumajang, Jurnal Argumentum, Vol. 10, No. 1,
Desember.
Ramadhan & Adam. (2015). Model Zonanisasi Penataan Pedagang Kaki Lima di
Kota Bandung (Perspektif Peraturan Daerah Kota Bandung Nomor 4 Tahun 2001 tentang Penataan dan Pembinaan Pedagang Kaki Lima, UNNES Law Journal,
Sidharta. (2014).Fenomena Pedagang Kaki Lima Dalam Sudut Pandang Kajian
Filsafat Hukum dan Perlindungan Konsumen, Humaniora, Vol. 5 No. 2.
Zhafril Setio Pamungkas. (2015). Faktor-faktor Yang Mempengaruhi Pendapatan
PKL Kota Malang (Studi Kasus PKL Di Wisata Belanja Tugu Kota Malang) Jurnal Ilmiah Malang Universitas Brawijaya.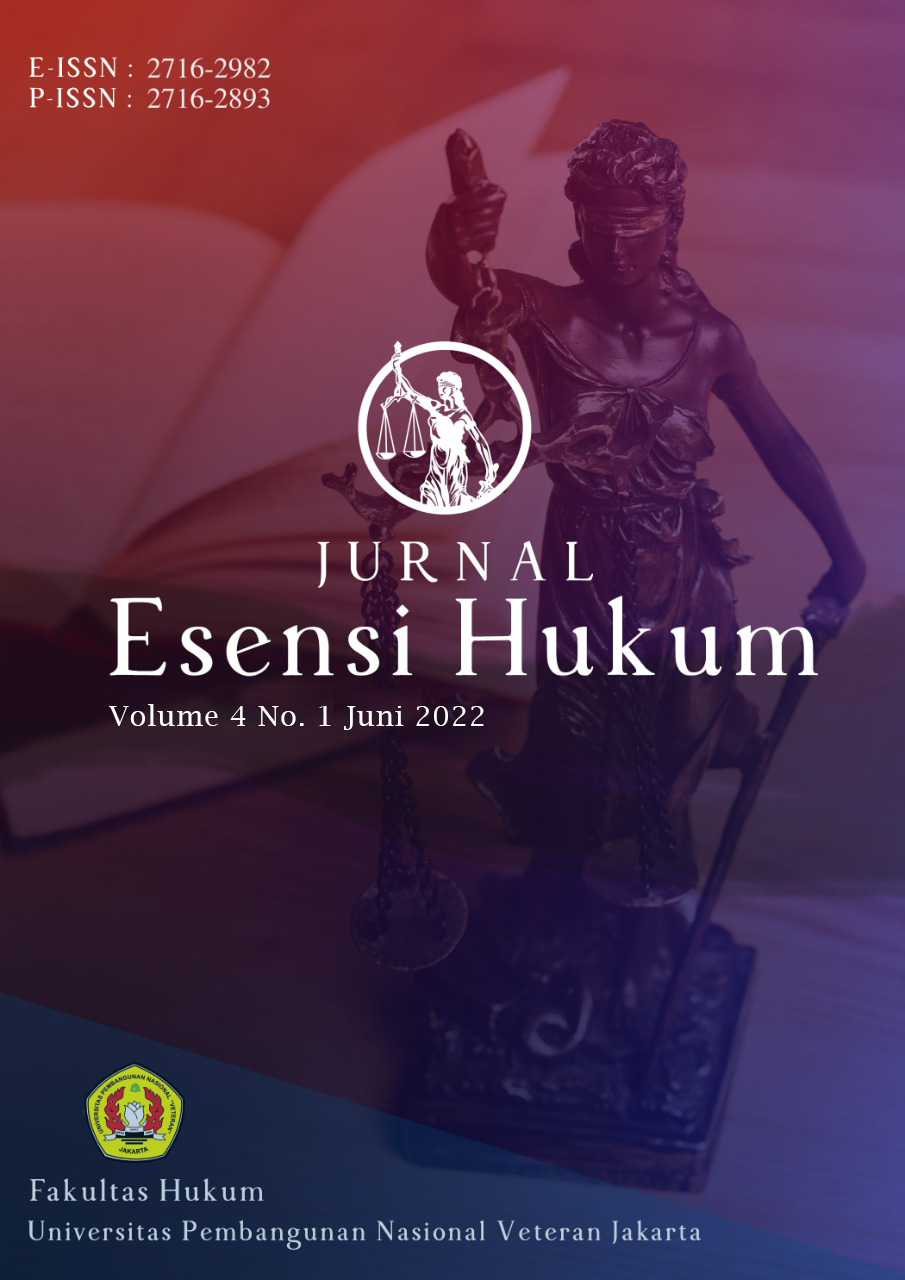 How to Cite
Yuherman, & Fahririn. (2022). KEPASTIAN HUKUM TEMPAT BERDAGANG BAGI PEDAGANG KAKI LIMA DI PASAR KLENDER JAKARTA TIMUR. Jurnal Esensi Hukum, 4(1), 1-11. https://doi.org/10.35586/esh.v4i1.118
Copyright (c) 2022 fahririn
This work is licensed under a Creative Commons Attribution-ShareAlike 4.0 International License.
Authors who publish with this Journal agree to the following terms:
1. Author retain copyright and grant the journal right of first publication with the work simultaneously licensed under a creative commons attribution license that allow others to share the work within an acknowledgement of the work's authorship and initial publication of this journal.
2. Authors are able to enter into separate, additional contractual arrangement for the non-exclusive distribution of the journal's published version of the work (e.g. acknowledgement of its initial publication in this journal).
3. Authors are permitted and encouraged to post their work online (e.g. in institutional repositories or on their websites) prior to and during the submission process, as it can lead to productive exchanges, as well as earlier and greater citation of published works.
4.

This work is licensed under a Creative Commons Attribution-ShareAlike 4.0 International License.