Analisis Terhadap Putusan pengadilan Tata Usaha Negara yang terkait dengan Pembatalan Penerapan Pasal 87 ayat (4) UU ASN
(Studi Putusan Nomor: 9/G/2018/PTUN-BNA)
Ingrid Angelina Lukiro Arif

narotama

Widyawati Boediningsih
Keywords:
State Administrative Court, Dismissal, State Civil Apparatus
Abstract
This article or writing aims to analyze the process of resolving employment disputes with respect to civil servants based on applicable laws and regulations and the application of the provisions of article 87 paragraph (4) of Law number 5 of 2014 concerning State Civil Apparatus by state administrative officials. regarding the dishonorable discharge of civil servants in the perspective of the State Administrative Court. In analyzing, the juridical-normative legal research method is used. The data were collected through literature study. and analyzed qualitatively. This study concludes that the Civil Service Dispute Resolution Process with respect to the dismissal of civil servants is carried out by 2 (two) employment dispute resolution routes. In the PTUN Banda Aceh No. 9/G/2018/PTUN-BNA, dated 6 August 2018, the basis for dismissal for committing a criminal act of corruption which was sentenced to imprisonment based on the District Court Decision dated 23 February 2012 for 1 (one) year in prison. The substance of the application of the article in this decision applies Article 87 paragraph (4) letter b retroactively (retroactive principle). The reason for the cancellation is Article 28I paragraph (1) of the 1945 Constitution and is contrary to the principle of legal certainty.
Downloads
Download data is not yet available.
References
Daftar Pustaka
A. Jurnal
Asbudi, Asbudi. (2020). "Pencegahan dan Penindakan Pelanggaran Netralitas Aparatur
Sipil Negara (Asn) oleh Bawaslu Kota Palopo pada Pemilu 2019." Journal I La
Galigo, vol. 3, no. 2, 12 Oct. pp. 9-17.
Harjiyatni, Francisca R., and Suswoto Suswoto.( 2017). "Implikasi Undang-Undang
Nomor 30 Tahun 2014 Tentang Administrasi Pemerintahan terhadap Fungsi Peradilan Tata Usaha Negara." Jurnal Hukum Ius Quia Iustum, vol. 24, no. 4, Oct., pp. 601-624
Helmi Kasim dan Titis Anindyajat. (2015). "Perspektif Konstitusional Kedudukan Negara dan Swasta dalam Pengelolaan Sumber Daya Air menurut UUD 1945", Jurnal Konstitusi Volume 13 Nomor 2
Khatab, Mariana. (2019). "Peran Kompetensi Aparatur Sipil Negara terhadap Kinerja Pelayanan Publik." Asia-Pacific Journal of Public Policy, vol. 5, no. 1, pp. 55-73.
Marsuki, Marsuki. (2019). "Etika Jabatan dan Aparatur Sipil Negara dalam Prinsip-prinsip Good Governance." Meraja Journal, vol. 2, no. 2, 13 Jun., pp. 91-100,
Muda, Iskandar. (2021). "Peran Putusan Mahkamah Konstitusi untuk Menentukan Kebijakan Pokok dalam Negara Kesejahteraan di Indonesia." Diversi, vol. 7, no. 1.
Nasution, Ajarotni, Suradji, dan Mugiyati (Eds). (2008). Perencanaan Pembangunan Hukum Nasional Bidang Hukum Administrasi Negara (Jakarta: Badan Pembinaan Hukum Nasional Departemen Hukum dan Hak Asasi Manusia RI
Nugraha, Safri. 2007, Laporan Akhir Tim Kompendium Bidang Hukum Pemerintahan yang Baik, Jakarta: BPHN
Ratnayanti, Ratnayanti, et al. (2020). "Upaya Mewujudkan Profesionalisme Kerja Aparatur Sipil Negara pada Sekretariat Dewan Perwakilan Rakyat Daerah Kabupaten Mamasa." Journal Peqguruang, vol. 2, no. 2, pp. 335-340
Rudatyo, Ariy Khaerudin, Pujining Asih. (2017). "Pelaksanaan Peraturan Pemerintah N0. 53 Tahun 2010 Tentang Disiplin Pegawai Negeri Sipil di Badan Kepegawaian Daerah Kota Surakarta Tahun 2016." Seminar Nasional "Perlindungan Hukum Terhadap Tenaga Kesehatan dan Pasien dalam Perspektif UU No.36 Tahun 2014", Surakarta, Indonesia, April.
Yos Johan Utama. (2017). Ayu Putriyanti, Irene Ave Rina* "Analisis Yuridis terhadap Pemberhentian Tidak dengan Hormat sebagai Pegawai Negeri Sipil di Kota Semarang (Studi Kasus Putusan Ma No. 009/g/2015/ptun Smg)." Diponegoro Law Review, vol. 6, no. 2, pp. 1-16.
B. Buku
Putra, I.B.W.,& Dharmawan, N.K.S. (2017). Hukum Perdagangan Internasional. Bandung:
PT Refika Aditama.
Ali, Zainuddin. 2016 Metode Penelitian Hukum, Jakarta: Sinar Grafika.
Jimly Asshiddiqie, 2005, Hukum Tata Negara dan Pilar-Pilar Demokrasi: Serpihan Pemikiran
Hukum, Media dan HAM, Jakarta: Konstitusi Press
Jimly Asshiddiqie, 2006, Perkembangan dan Konsolidasi Lembaga Negara Pasca Reformasi.Jakarta: Sekretariat Jenderal dan Kepaniteraan Mahkamah Konstitusi RI Soekanto, Soerjono dan Sri Mamudji, 2019, Penelitian Hukum Normatif, ed.1, cet. 19,
Depok: Rajawali Pers
Soekanto, Soerjono. 2006, Pengantar Penelitian Hukum, Jakarta: UI-Press
Soemaryono, dan Anna Erliyana, 1999, Tuntutan Praktik Beracara Di Peradilan Tata Usaha
Negara, Jakarta: PT Primamedia Pustaka
C. Peraturan Perundang-undangan
Undang-Undang Nomor 5 Tahun 2014 Tentang Aparatur Sipil Negara. (Lembaran
Negara Republik Indonesia Tahun 2014 Nomor 5049)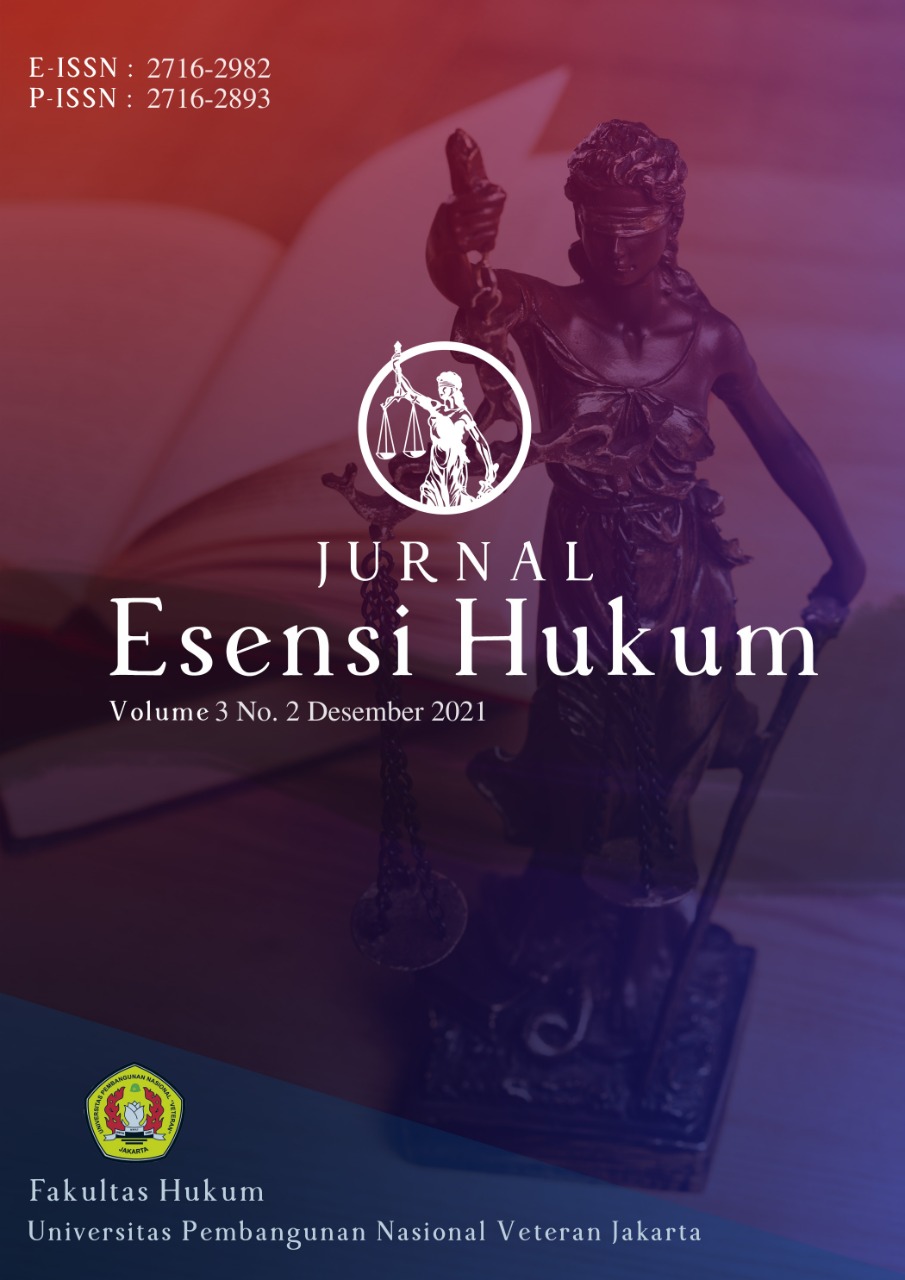 How to Cite
Ingrid Angelina Lukiro Arif, & Widyawati Boediningsih. (2022). Analisis Terhadap Putusan pengadilan Tata Usaha Negara yang terkait dengan Pembatalan Penerapan Pasal 87 ayat (4) UU ASN. Jurnal Esensi Hukum, 4(1), 24-39. https://doi.org/10.35586/esh.v4i1.119
Copyright (c) 2022 Ingrid Angelina Lukiro Arif
This work is licensed under a Creative Commons Attribution-ShareAlike 4.0 International License.
Authors who publish with this Journal agree to the following terms:
1. Author retain copyright and grant the journal right of first publication with the work simultaneously licensed under a creative commons attribution license that allow others to share the work within an acknowledgement of the work's authorship and initial publication of this journal.
2. Authors are able to enter into separate, additional contractual arrangement for the non-exclusive distribution of the journal's published version of the work (e.g. acknowledgement of its initial publication in this journal).
3. Authors are permitted and encouraged to post their work online (e.g. in institutional repositories or on their websites) prior to and during the submission process, as it can lead to productive exchanges, as well as earlier and greater citation of published works.
4.

This work is licensed under a Creative Commons Attribution-ShareAlike 4.0 International License.